Mesquite Congregation Feels Impact of Typhoon Haiyan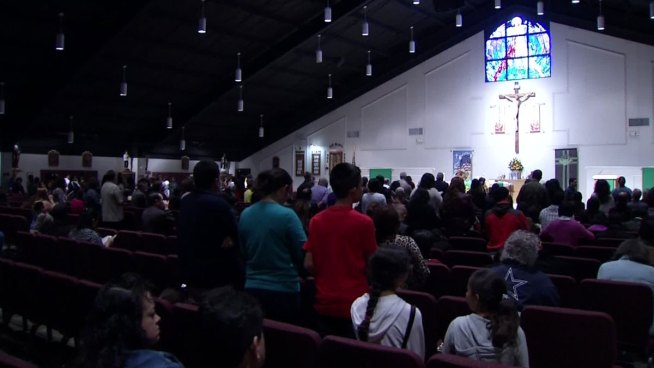 Mark Schnyder, NBC 5 News
Parishoners at Divine Mercy of Our Lord Catholic Church in Mesquite pray for and raise money for typhoon victims in The Philipines.
"Most of my relatives have been affected," said Lena Euperio. "Actually, my aunt, we just talked to her. Her house is flooded and they have to evacuate from the old house to my parent's house."
Some of Euperio's family lost their nursery business in
the devastating typhoon
. She said she's headed to the Philippines next Sunday to check on her loved ones and see what she can do to help.
"The Philippines is really suffering tremendously with this typhoon and we hope some other good people here in the United States will be able to help and make some donations to the poor," said Euperio.
A collection drive is starting up in the Metroplex and Divine Mercy is part of it. They'll have boxes out for the next two to three weeks collecting clothing, sandals, canned goods and cash.
"I talked to my family and they are safe thanks be to God," said
pastor Ernie Torres
. "But I know of some friends whose places have been completely devastated."
Torres said Filipinos are used to typhoons. There are typically more than a dozen a year but they haven't experienced anything like this one. He said the people there are resilient.
"About 90 percent of the Filipinos are Catholics and so they turn to God and they say prayers and their faith makes them strong and facing the predicament right now."