Getaway Vehicle in Hasse Murder Found: Police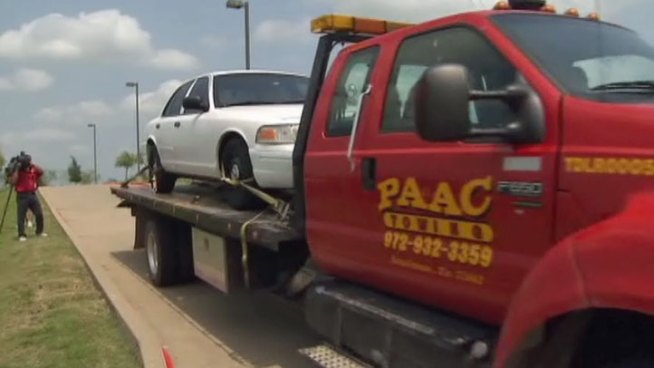 Randy McIlwain, NBC 5 News
Investigators are searching for evidence in a car they say might have been used in the January killing of Kaufman County prosecutor Mark Hasse. The car was found at a Dallas wrecking yard after being towed from a self-storage complex where Eric Williams had a unit rented for him.
Kaufman County investigators have located a vehicle they say was used as a getaway vehicle following the murder of Assistant District Attorney Mark Hasse.
According to a search warrant released Thursday, the car, a 2001 Mercury Sable, was towed from a storage facility in Seagoville -- the same facility where a white Crown Victoria was found that investigators linked to the murders of District Attorney Mike McLelland and his wife Cynthia.
Police said Williams was storing the Sable at the storage facility, but moved it into the parking lot when he hid the Crown Victoria inside the storage unit.
Believing the vehicle to be abandoned, the owner of the storage facility later had the Sable towed. The tow company then contacted the owner of the Sable, Armida Martinez, who said she sold the car in 2010 on Craigslist.
The FBI said their investigation revealed that on Jan. 27, 2013, Eric Williams searched a Texas license plate number that matched the Sable.
The FBI now has the Sable and is checking it for DNA and forensic evidence. The Sable, matches the description of the car, described as a Ford Taurus, seen leaving the scene of the Hasse murder.
Investigators said entry logs from the storage facility showed the unit was entered and exited several times on Jan. 30 and 31 and again on March 30, the day of the McLelland murders.