Fort Worth Police Search for Hit-and-Run Driver
Wednesday, Dec 11, 2013 | Updated 9:21 AM CDT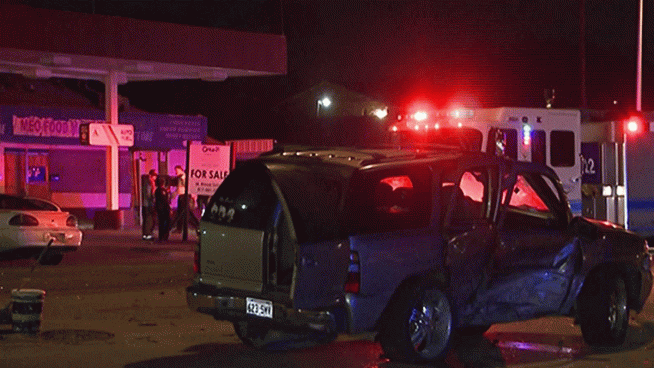 Ben Russell, NBC 5 News
Fort Worth police are asking for the public's assistance in the search for the driver of a white car suspected in a hit-and-run crash on Wichita Street Saturday night.
Fort Worth police are searching for a driver who fled the scene of a fatal crash Saturday night.
The crash happened along the 4700 block of Wichita Street at about 6 p.m.
A woman driving a 2003 GMC Suburban was turning left on Martin Street when the passenger side of her vehicle was hit by the driver of a white 2000 Pontiac 4-door sedan.
A 5-month-old boy was ejected from the Suburban. He was taken to Cooks Children's Hospital in critical condition. He died on Sunday from injuries related to the crash.
All individuals inside the Pontiac fled the scene of the crash. Two of the individuals inside the vehicle were taken to John Peter Smith Hospital and were interviewed.
Authorities are still trying to locate the driver of the Pontiac.
The Fort Worth Police Department is asking for help locating the vehicle and the driver. The Texas license plate number to the white Pontiac is 36T-2115.