A three-alarm fire erupted in a Dallas high rise Thursday morning, killing three workers, injuring three other people and forcing the evacuation of 2,800 office workers, fire officials say.
The three subcontractors killed in the fire were working in a thermal storage tank that is part of the heating, ventilating and air conditioning unit in the basement of the building, Dallas Fire-Rescue spokesman Jason Evans said during a Thursday afternoon news conference.
The victims were identified as 60-year-old Nicacio Carrillo, his nephew, 43-year-old Luis Carrillo and 36-year-old Oscar Esparza-Romo.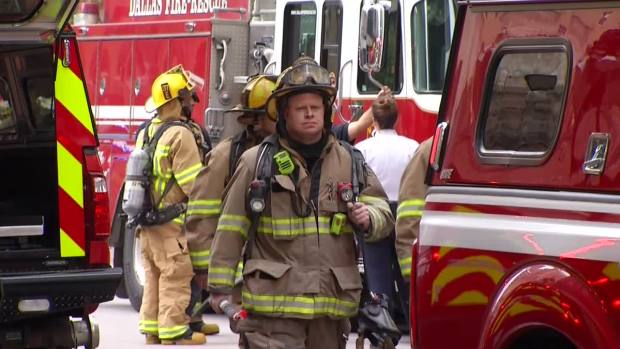 Fire Reported at Dallas' Thanksgiving Tower
"I love the guys. The guys are good guys. I know he tried to (have a) better life every day," said the Carrillos' heartbroken relative Gabriel Carrillo.
He said his wife called him earlier in the day to tell him their two loved ones were trapped inside a fire under the tower.
Three other people were sent to the hospital and treated for injuries that were not life threatening, though it's not yet known where they were in the building when the fire started.
Evans said they thought there might be workers close to where the fire was located but that heat and visibility kept them from reaching the area more quickly. He added that thick smoke and flames adjacent to an electrical facility near the storage tank led them to believe the fire was electrical, but that now they aren't sure where the fire began or how.
3 Workers Killed in Fire at Thanksgiving Tower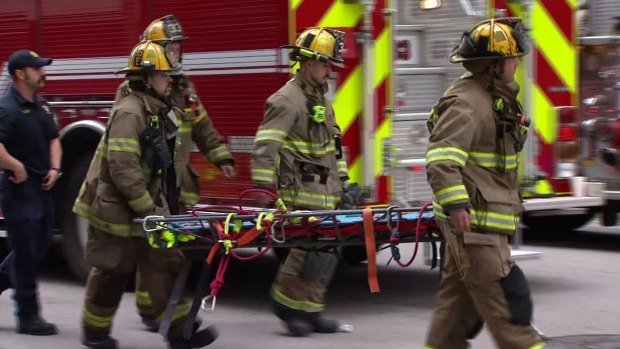 Dallas Fire-Rescue officials confirm that three workers were killed when a 3-alarm fire started at Thanksgiving Tower in downtown Dallas Thursday morning. (Published Thursday, Dec. 11, 2014)
Because DFR initially believed the fire to be electrical, firefighters had to wait for the power to be disconnected before attacking the flames or risk being shocked or electrocuted.
Once the fire was out and the smoke was cleared, the bodies of the three men were found inside the 35-foot storage tank, fire officials said. According to officials, the men, who were subcontractors for Best Mechanical.
"Our heartfelt sympathies go with these families, especially this time of year," said Cheri Torres, with Best Mechanical.
Torres said the men did have safety equipment and that there were evacuation procedures. Somehow, the men did not make it out.
"It was just a very, very tragic accident," she said.
At this time officials have not said what killed the three men. Their bodies will be transported to the Dallas County Medical Examiner's Office who will determine their causes of death.
Questions Raised About Safety Permits
Our colleagues at The Dallas Morning News are reporting that Assistant Fire Chief Ted Padgett said the tower's permit for welding, cutting and hot works expired in March and that the contractor doing business at the tower hasn't had a valid permit for that kind of work since December 2009.
Officials have not confirmed if the men in the tank were doing work that would have required such a permit.
Dallas Fire-Rescue spokesman Joel Lavender said Friday that investigators are still working to determine what caused the fire, including if cutting or welding inside the tank led to the fire.
Fire Reported at Dallas High Rise
At about 10 a.m. Thursday initial reports indicated smoke was coming from the B2 level garage of the 50-story Thanksgiving Tower.
For more than an hour more than a dozen DFR apparatus and what appeared to be hundreds of firefighters were seen in the streets adjacent to the building.
Viewer Devon Smith on Thanksgiving Tower Fire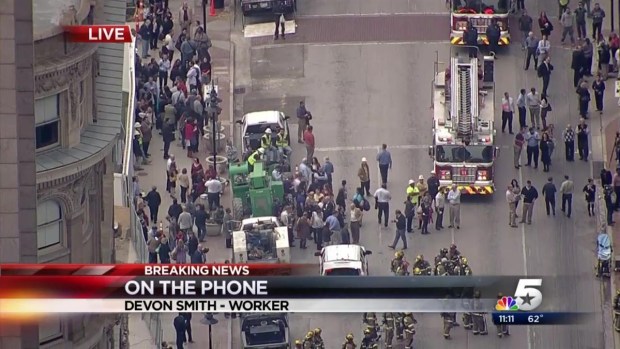 NBC 5 Viewer Devon Smith on the fire at Thanksgiving Tower. (Published Thursday, Dec. 11, 2014)
A belief that the fire was electrical in nature delayed firefighters from being able to attack the flames until the power was cut off to the area.
At about 11:20 a.m. officials said the fire had been extinguished, though it took some time before large fans could clear the garage of dangerous smoke.
Viewer Holly O'Neil on Thanksgiving Tower Fire
NBC 5 Viewer Holly O'Neil on the fire at Thanksgiving Tower. (Published Thursday, Dec. 11, 2014)
High Rise Evacuated After Report of Fire
A worker at the building confirmed to NBC 5 that the entire building had been evacuated with hundreds of people climbing down the tower in stairwells. Another caller said evacuated workers who drove to the building were unable to leave since their cars were parked in the garage and were inaccessible.
For those taking mass transit, DART reported only slight delays to bus traffic in the area due to closed roads; light rail remained on schedule.
DART Reports Slight Delays After High Rise Fire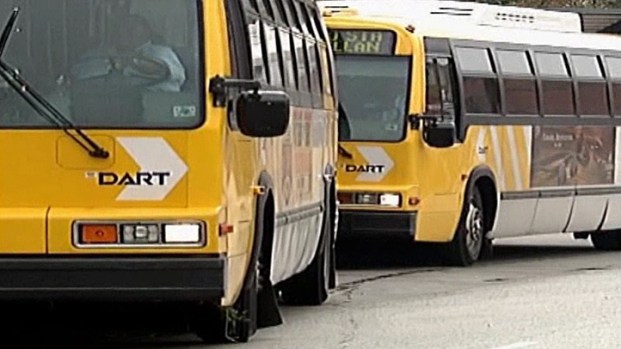 DART reports slight delays to bus traffic after a fire was reported at Thanksgiving Tower in Dallas, Dec. 11, 2014. (Published Thursday, Dec. 11, 2014)
About the Tower
Thanksgiving Tower, at 1601 Elm Street, is a 50-story, 600-foot high rise at the edge of the Arts District overlooking Thanksgiving Square.
It is among the tallest buildings in downtown and is bound by Elm Street, Ervay Street and Pacific Avenue in Downtown Dallas.
The tower has recently been undergoing a major $18 million renovation that was to be completed in late 2015, according to a report by The Dallas Morning News.
NBC 5's Jocelyn Lockwood and Ray Villeda contributed to this report.

Published at 10:48 AM CST on Dec 11, 2014 | Updated at 9:51 AM CST on Dec 12, 2014