FEMA Starts Sheltering West Victims
14 people killed and dozens of homes destroyed in April 17 explosion.
Sunday, May 5, 2013 | Updated 4:38 PM CDT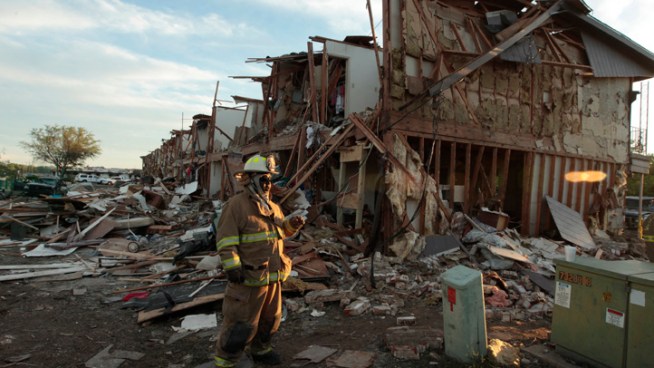 Getty Images
A Valley Mills Fire Department personnel walks among the remains of an apartment complex next to the fertilizer plant that exploded yesterday afternoon on April 18, 2013 in West, Texas. According to West Mayor Tommy Muska, around 14 people, including 10 first responders, were killed and more than 150 people were injured when the fertilizer company caught fire and exploded, leaving damaged buildings for blocks in every direction. (Photo by Erich Schlegel/Getty Images)
The Federal Emergency Management Agency has activated a plan to provide transitional shelter for residents of West whose homes were destroyed or severely damaged by last month's fertilizer plant explosion.
The plan allows affected residents to stay in motels for a limited amount of time at FEMA's expense.
Those eligible are being notified by phone, and calls are already in progress, the agency said in a news release Sunday.
The initial period of assistance will last through May 18.
Coordinating officer Kevin L Hannes says FEMA is working closely with state and local officials "to develop a long-term housing solution to help West residents until their homes are repaired or rebuilt."
Fourteen people were killed and more than 200 were injured in the April 17 blast.