Earthquake Hits Near Azle Just After Midnight
20 quakes recorded in North Texas this month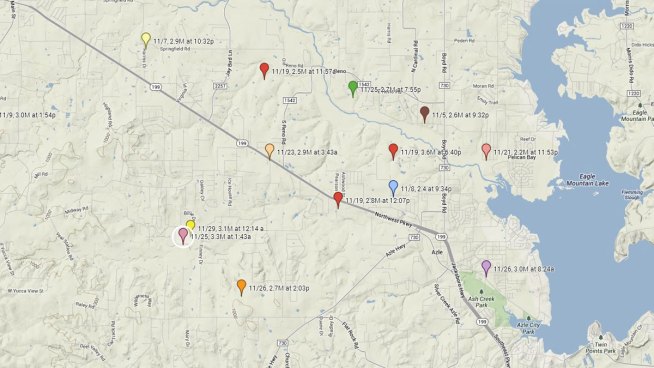 Google Maps
The latest quake, seen at the yellow pin, shows it's not far from a quake recorded just four days ago.
Another earthquake was detected in North Texas, the latest shaking near Azle shortly after midnight Friday, according to the United States Geological Survey.
A 3.1 magnitude earthquake was recorded at 12:14 a.m., west of Azle and southwest of Reno.
The epicenters for the earthquakes was recorded in the same area where a recent string of more than a dozen earthquakes have hit the Azle/Parker County area since the start of November. See a Google map here.
There have been no injuries reported in connection with any of the earthquakes.
Here are the USGS and NBC 5 reports of all North Texas earthquakes recorded in November:
Other Earthquake-Related Coverage: