Firefighters Looking For Specific Donations
Wednesday, Aug 15, 2012 | Updated 11:37 AM CDT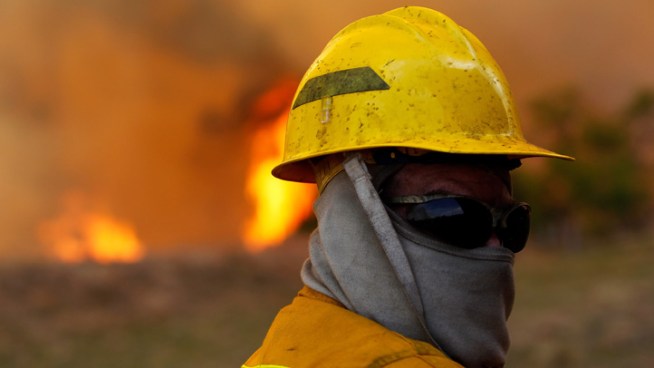 Getty Images
Volunteer firefighter Jason Collard prepares to fight a running wildfire on April 19, 2011 in Strawn, Texas. Dozens of area homes have been destroyed in the wildfires that have been fueled by dry conditions, high winds, and low humidity.
Firefighters battling wildfires in west Texas are also battling with supply shortages of some useful items.
Coppell fire stations are now accepting donations for a specific list of items (see below) to aid firefighters out in the western blazes.
The fire department is only accepting the items requested on the list. The city cannot accept monetary donations.
Accepted Donations for Firefighters
•Chapstick with Moisturizer (non-flavored)
•Sunscreen with SPF 30 or greater
•Eye Drops
•Gold Bond powder
•Bottled water
•Cotton T-shirts of all sizes
•Cotton undergarments for men and women of all sizes
•Cotton tube socks for men and women
•Under Armour type undergarments for men and women of all sizes
•Leather gloves
•Sunglasses
•Gel packs that can be frozen and worn over their necks
•Bandanas that can be wetted and worn
•Granola bars
•Fruit snacks