Thursday, Jan 24, 2013 | Updated 2:50 PM CDT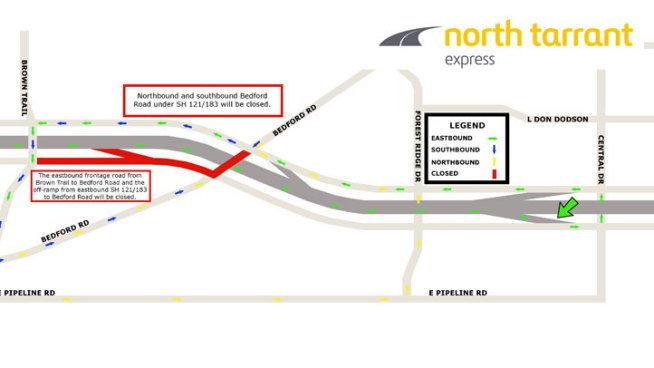 Both the northbound and southbound lanes of Bedford Road at the state Highway 121/183 intersection will be closed overnight beginning Friday at 9 p.m. through Saturday at 10 a.m., officials with the North Tarrant Express said Thursday.
Northbound Bedford Road traffic will be redirected along the eastbound SH 121/183 frontage road to Forest Ridge Drive and then back along the westbound SH 121/183 frontage road. Southbound Bedford Road traffic will be redirected to Brown Trail and then south to Pipeline Road.
Bedford Road will be open at Brown Trail, but it will be closed to thru traffic.
Also the eastbound SH 121/183 frontage road from Brown Trail to Bedford Road will be closed.
Because of the location of the closure, the off-ramp from eastbound SH 121/183 to Bedford Road will also be closed. Please see the attached map for detours.
This work is part of the $2.5 billion North Tarrant Express project. The five-year project includes reconstruction of frontage lanes and main lanes on IH 820/SH 121/183, and the addition of managed toll lanes, all between IH 35W in Fort Worth and Industrial Boulevard in Euless.
The closure is necessary to allow contractors to place beams for the new Bedford Road bridge structure.