Clues Sought in IDs of Texas Pickup Crash Victims
Investigators continue search for identities of those killed in pickup crash
Tuesday, Jul 24, 2012 | Updated 4:09 PM CDT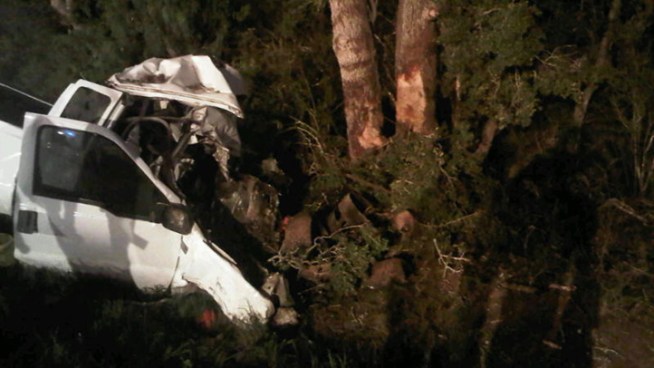 AP
In a photo provided by the Texas Department of Public Safety the wreckage of a pickup truck is seen after it crahed into trees In Goliad County Texas Sunday July 22, 2012.
Investigators continue the difficult task of trying to identify 15 suspected illegal immigrants who were killed when a pickup truck packed with nearly two dozen people crashed in South Texas during an apparent smuggling run.
They're also looking for clues about who else might have been involved in the operations.
Federal immigration officials say a 15th person involved in a pickup truck crash in South Texas has died.
U.S. Immigration and Customs Enforcement spokesman Greg Palmore said Tuesday that another man died following the crash on a rural highway about 90 miles southeast of San Antonio Sunday evening. That means 12 men were killed. Three females, including to juveniles, also died.
The deceased are from Mexico, Honduras and Guatemala. Eight people remain hospitalized.
The men, women and children were carrying toothbrushes, toothpaste and changes of socks and underwear but no identifying documents.
Authorities said the white Ford F-250 was carrying 23 immigrants from Mexico, Honduras and Guatemala when it veered off a highway and crashed into trees Sunday night.
The crash happened on a highway about 90 miles southeast of San Antonio and about 150 miles northeast of the Mexican border.