A&M Scatters Drift Cards in Gulf to Track Currents
Thursday, Jul 4, 2013 | Updated 11:08 AM CDT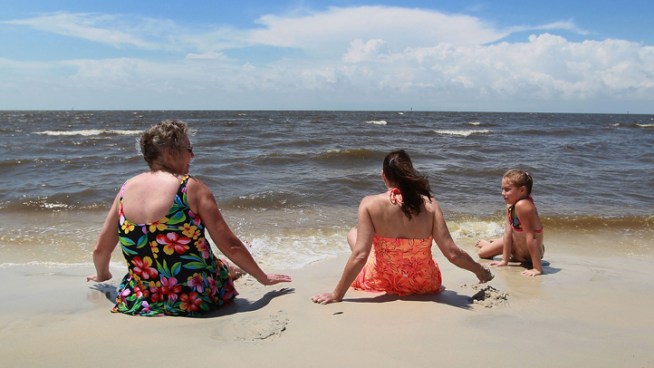 Getty Images
Felicia Farmer (L) and Teresa Holmes (C) and Emma Holmes on vacation from Texas enjoy the beach despite the threat of contamination from the Deepwater Horizon oil spill in the Gulf of Mexico on July 4, 2010 in Biloxi, Mississippi.
Texas A&M University scientists have scattered hundreds of bright yellow cards on the Gulf of Mexico to learn more about ocean currents.
A university statement Wednesday says more than 1,000 of the marine plywood cards have been tossed onto the bounding main. Another 2,000 to 3,000 will be released by summer's end with plans for 5,000 eventually to be distributed.
Each card has return instructions for anyone who finds them. Those persons are asked to mark on the card the date, place and time the card was found and mail it back. Those who do qualify for a monthly drawing for a $25 gift card.
The cards are part of the Gulf of Mexico Research Initiative researching how potential oil spills could drift in the Gulf.