Organ Donor Registry Hits 1 Million
Texas lags in donors but catching up
Wednesday, Aug 18, 2010 | Updated 4:15 PM CDT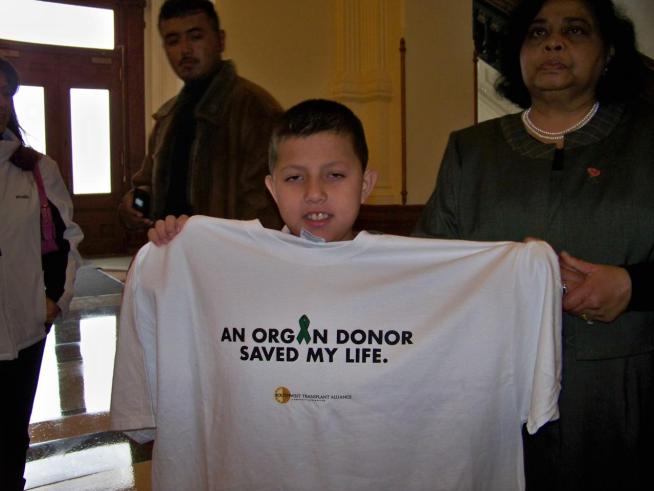 _____ From: Becca [mailto:bcb.7072@verizon.net] Sent: Tuesday, January 27, 2009 9:22 PM To: 'isee@nbcdfw.com' Cc: 'art@upperoxbowranch.com'; 'Cheryl Browning' Subject: Texas House Resolution 134 The House approved Resolution 134 today honoring Austin Browning for his efforts to create organ donor awareness and his heroism in helping to save the lives of 4 other Texans. It was the Browning families first time to meet Gabriel Martinez an organ recipient. Two other recipients were in attendance as well. See attached photos of the events at the State Capital today. If you would like additional information, please contact Cheryl Browning at the email address above.
Ten thousand people in Texas might be able to sleep a little more comfortably tonight.
Those 10,000 people await organ transplants, and the state's Donate Life Texas Organ Donor Registry just reached the 1 million donor mark, according to Dallas-based Southwest Transplant Alliance.
Maybe Texans are clueing in. Since January, according to a news release from the Transplant Alliance, between 60,000 and 70,000 people a month have signed up for the registry. In 2006, the average hovered at about 10,000 a month.
The supply, apparently, is starting to catch up with demand. Only California and Pennsylvania doctors perform more transplants than their counterparts in Texas.
Registering to be a donor takes the pressure off family members during crisis situations. It's already a done deal and a family member, bedside at a hospital, doesn't have to make the call.
According to the release, only 2 percent of transplanted organs in Texas came from registered donors during 2009. All those others had to come from people, grieving the impending death of a loved one, saying, "Yeah, sure, go ahead and harvest his [insert body part here]."
So do the family a solid and remove the pressure.
Donating an organ must be the height of recycling.
Bruce Felps owns and operates East Dallas Times, an online community news outlet serving the White Rock Lake area. No one would want his organs.