Whitney Houston Fires Back: "I'm Feeling Great"
Wednesday, Apr 7, 2010 | Updated 10:15 PM CDT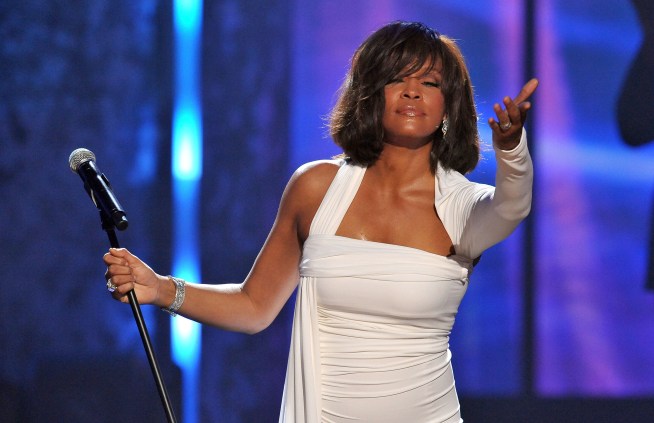 WireImage
LOS ANGELES, CA - NOVEMBER 22: Singer Whitney Houston onstage at the 2009 American Music Awards at Nokia Theatre L.A. Live on November 22, 2009 in Los Angeles, California. (Photo by Lester Cohen/WireImage)
Don't worry about Whitney Houston.
"I'm feeling great," the singer said in a statement to People following a hospitalization earlier this week – in response to tabloid rumors that she'd begun dabbling once again with drugs.
Whitney called the rumors "ridiculous."
"At this point, I just don't respond. I don't even read it," she said of the headlines.
Whitney, who is launching a European tour and had to delay the first four dates due to a respiratory ailment, said she's now ready to hit the road.
"My health is terrific," she told the mag. "But this is a time when I get a lot of allergies."
The diva added that she was pleased to be performing after spending a few years away from the music industry.
"I'm doing what I love to do, which is singing," she said. "The best part is seeing all of my fans around the world."
Related Content from AccessHollywood.com:
VIEW THE PHOTOS: Crazy! Sexy! Cool! The Planet's Hottest Pop Stars Take The Stage
VIEW THE PHOTOS: Daring! Dramatic! Fabulous! Hot Shots Of Hollywood's Divas
PLAY IT NOW: Music Video: Whitney Houston Feels Like A 'Million Dollar Bill'
PLAY IT NOW: Clive Davis: Whitney Houston's New Album 'Means A Lot To Me'
MORE ACCESS ON THESE TOPICS: Whitney Houston - Divas - Music - TV One - Celebrities