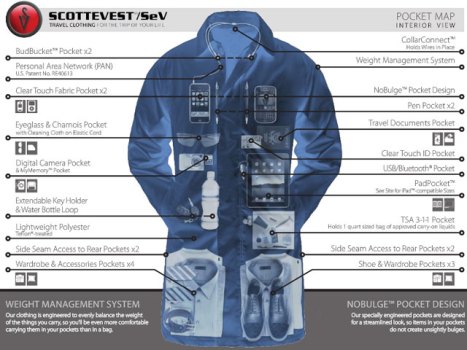 Scottevest
Inspector Gadget didn't have this many secret pockets in his trench coat.
CARRY-ON CARRY-ALL: With a grand total of 33 secret pockets on the Scottevest Carry-On Coat, even Inspector Gadget would be hard pressed to top the amount of gadgets this trench coat can contain. This just-announced design is targeted for gadget happy travelers who want to do without a standard carry-on and includes pockets for just about anything you could want to have. Need a bottle of water? There's a pocket for it. Change of clothes? Yep. iPad container? Trademarked design. Oh, and the whole thing has cable management built in, letting you string your iPhone headphones in the collar for handy access. Go go Gadget Trench Coat! GET IT: Scottevest
P.S. Want to see a larger version of the all the pockets? Click here.