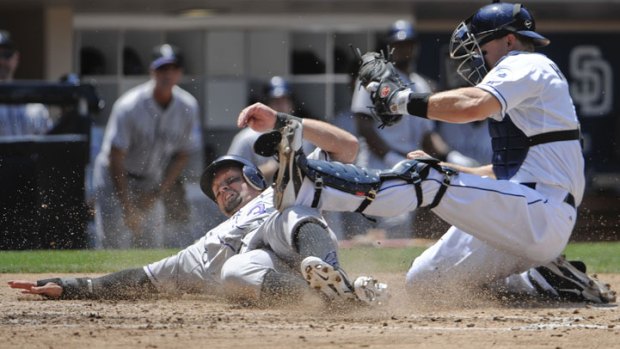 Getty Images
Michael Cuddyer of the Colorado Rockies is tagged out at the plate by Nick Hundley of the San Diego Padres.
Target: Michael Cuddyer, OF/1B/3B
Type of move: Trade
2012 stats: .260 batting average, .317 on-base percentage, 16 homers, 58 RBIs in only 101 games.
Cuddyer has long been one of the game's most underrated players — mostly due to his versatility in the field. But he also has a quietly good bat with some pop to it. After being traded to Colorado last season, he played just 101 games but still put up some good power numbers when all was said and done. He's set to make $21 million over the next two seasons, which is a bit steep given the production but he would give the Rangers a valuable piece that could play several positions and could be a nice No. 5 or No. 6 hitter if the Rangers part with Nelson Cruz.