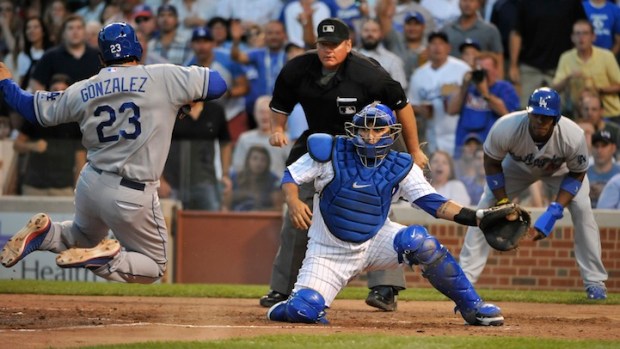 Getty Images
Adrian Gonzalez #23 of the Los Angeles Dodgers scores as Dioner Navarro #30 of the Chicago Cubs takes the throw during the third inning on August 1, 2013 at Wrigley Field in Chicago.
Target: Dioner Navarro, C
2013 stats: 89 games, .300 batting average, .365 on-base percentage, .856 OPS, 13 home runs, 34 RBIs, 26 percent potential base-stealers thrown out
Navarro is a big target this winter as the Rangers try to fill their catching void. Brian McCann, the big free agent catcher on the market, signed with the New York Yankees. The Rangers appear to have their catcher of the future in Jorge Alfaro, who is seen as a can't-miss prospect and should be ready to hit Arlington by 2015. In the meantime, the Rangers need someone to pair with veteran Geovany Soto, and Navarro could be the perfect choice.
Navarro took Soto's place with the Chicago Cubs and has been with a new team six times, including two separate stints with the Los Angeles Dodgers after coming up in the New York Yankees organization and being rushed to the bigs at age 20. Navarro is 29 now, and is a free agent. If the Rangers could pair him with Soto that would give them a plenty capable catching platoon to bridge the gap to Alfaro sometime in the 2015 season. Soto is signed through next season, and Navarro could sign a two-year deal to be the Rangers' Opening Day catcher in 2015 before Alfaro hopefully makes his arrival. He has a better bat than Soto, and probably takes a slight back seat to Soto defensively.