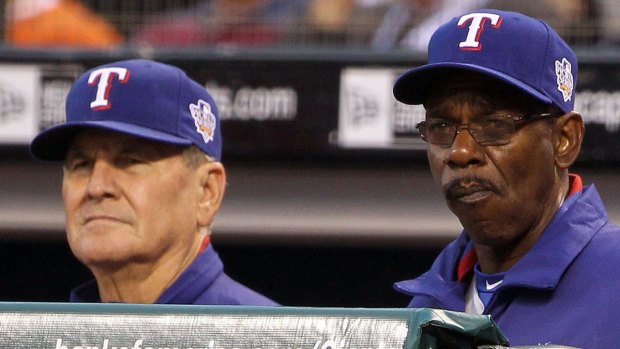 Getty Images
Jackie Moore, left, and Ron Washington.
The rage in baseball these days is the advanced Bill James sabremetrics of baseball. You know, WAR rating, ERA+, BABiP, and a bunch of other stuff you might not recognize. Days of batting average, runs scored and god forbid, wins for a pitcher, are long gone in terms of determining who is valuable in the game and who isn't.
Ron Washington, the old school brotha, isn't too big on such things, which isn't the least bit surprising. In speaking to KTCK The Ticket on Monday morning, Washington was asked about all the new-school stats in baseball and pretty much said he pays attention to RBIs and runs scored, which would send guys like Billy Beane or James to their graves.
"My personal stats is RBIs and runs scored," Washington said. "If we can drive in runs and score runs, that's it. Those guys [analytics guys] are important, though, they make you think about what's going on. I'm a person that works according to flow of the game. I look at all the numbers prior to the game, who's hot and not. Who hits well against left-handed pitching and who doesn't. Once the game starts it's all about seeing what's going on and going with your feel."