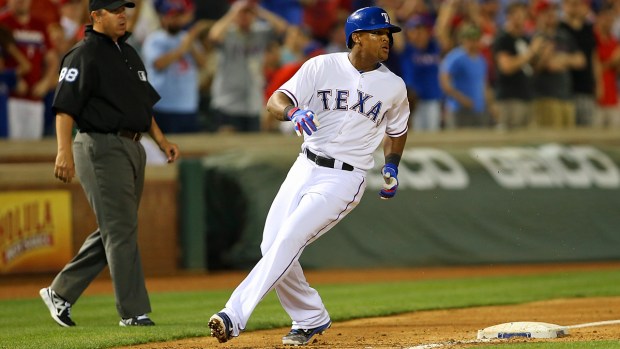 Getty Images
Doug Eddings #88 umpire and Cody Asche #25 of the Philadelphia Phillies look on as Adrian Beltre #29 of the Texas Rangers advances to third on a double hit by Mitch Moreland in the ninth inning at Globe Life Park in Arlington on April 2, 2014 in Arlington, Texas.
The Texas Rangers have been without their best player for more than a week, and they're right up there with the best teams in the American League in terms of record through the first three weeks of the season.
Now, Adrian Beltre is very near a return to action as he hit the road with the Rangers to the West Coast this week, where they'll begin a three-game series at rival Oakland Monday night before heading off to one of Beltre's former stomping grounds in Seattle, which is where Beltre should be able to return from the 15-day disabled list. He's been dealing with a mild quadriceps strain but is eligible to return to the Rangers' lineup on Friday in Seattle to open a three-game set against the Mariners.
Beltre told The Dallas Morning News he felt "good" on Sunday and is on schedule to be activated on Friday.
On the season, Beltre has yet to get hot, but as a notoriously slow starter, that's not a concern. His presence in the cleanup spot in the Rangers order will force people to pitch to Prince Fielder and also provide more protection to Alex Rios.
In his eight games this season, Beltre is hitting .286 with three doubles and four RBIs. He's yet to homer.