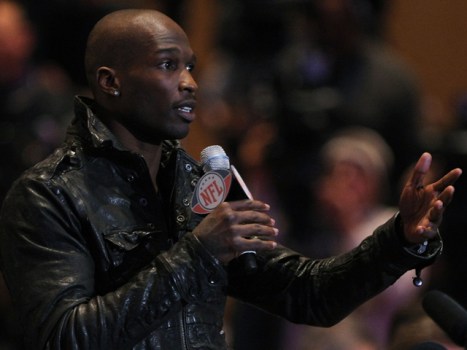 Getty Images
Anyone who follows Cincinnati Bengals' Chad Ochocinco on Twitter--and if you don't, we'd recommend it--was treated on Monday night to a curious and hilarious string of Tweets from the eccentric receiver, in which he issued fight challenges to a number of his NFL friends in what he would come to call "a lockout a** whooping spree."
It started with the Texans' Andre Johnson, and moved quickly to the Washington Redskins' Santana Moss, to the Minnesota Vikings' Adrian Peterson, to the Baltimore Ravens' Anquan Boldin, to the Arizona Cardinals' Larry Fitzgerald.
Somewhere in there, Marion Barber was thrown into the mix, with Ochocinco telling the Cowboys' veteran: "I never fought a running back but I'm sure I'd whoop your [butt] too. Your hair would get in the way!!"
Barber responded with an all-caps version of Ochocinco's catchphrase, "Child please," setting into motion an amusing back-and-forth between the Cowboys' (for now, anyway) running back and the Bengals' (for now, anyway) receiver.
Barber wasn't the only player with ties to Dallas to receive a challenge from Ochocinco. He also threw down the gauntlet in the direction of his former teammate, co-star and friend Terrell Owens ("while I'm handing out [butt] whoopings don't think I won't beat up on the elderly! Just letting you know where I stand! On 2 feet") and Hall of Fame cornerback Deion Sanders ("I didn't want to leave you out!! I'd whoop you too and goodnight on that note!!!").
Stay on top of the latest Dallas Cowboys news with NBCDFW.com. Follow NBC DFW Sports on Facebook or have breaking Cowboys news sent directly to your phone with Blue Star SMS alerts. Text "bluestar" to 622339 (NBCDFW) to subscribe to this free service. Read more about it here.