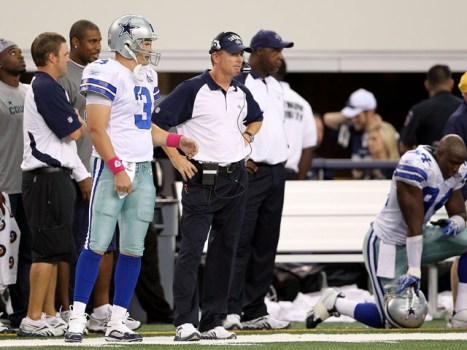 Getty Images
October 31, 2010: (L-R) Quarterback Jon Kitna and assistant head coahc/offensive coordinator Jason Garrett of the Dallas Cowboys look on from the sideline against the Jacksonville Jaguars at Cowboys Stadium in Arlington.
At 3-7, very few in the Dallas Cowboys' locker room are suffering from any delusions, spurred on by the team's first pair of consecutive wins this season, of a late playoff run. The simple fact is that, as nice as it is to turn on a Cowboys game and not be hit in the face by a tragicomedy rife with dumb mistakes, somewhere between week one and week eight, things got out of hand, and the playoffs almost certainly got out of reach.
Which is to say, these Cowboys aren't playing for the playoffs, or even necessarily pride; they're playing for their jobs. In order to be successful, to this end, they must keep an eye on the bottom line--and the bottom line, of course, is wins and losses. This isn't lost on quarterback Jon Kitna, who said recently that, in order to ensure the very personal concern of job security, they'll have to work as a team--and win.
"The reality is they fired our head coach, and that's an indictment of your football team," Kitna said, per ESPN Dallas. "So any time the coaching staff changes and there's a new regime, you have a massive turnover of players. I think that's the biggest motivation, trying to play well and put your best foot forward that way."
"It's a team thing, not an individual thing. If you don't win football games, heads are going to roll, so to speak. That's the biggest team motivational factor, I think."