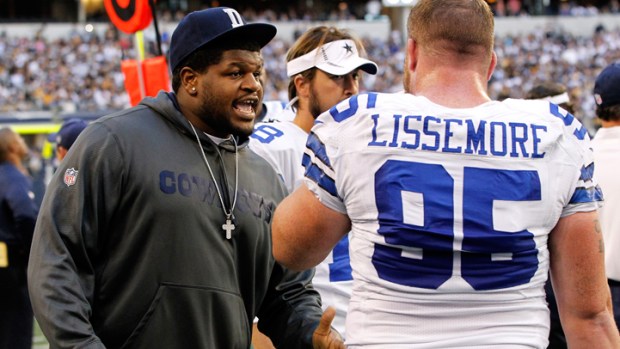 Getty Images
ARLINGTON, TX - DECEMBER 16: Dallas Cowboys player, Josh Brent talks with teammate Sean Lissemore #95 as the Cowboys take on the Pittsburgh Steelers at Cowboys Stadium on December 16, 2012 in Arlington, Texas.
Dallas Cowboys nose tackle Josh Brent was on the sideline with his teammates Sunday, a week after a fatal accident that killed a practice squad member.
Brent, the driver in a one-car accident that killed Jerry Brown, was placed on the reserve/non-football illness list by Dallas this week. Brent gets to remain with the team but not play again this season
Brown's No. 53 jersey was draped over the Dallas bench during the home game against Pittsburgh. Cowboys players wore a decal with his number on their helmets.
Brent faces charges in the death of Brown, his close friend. The accident happened in the early morning hours of Dec. 8, the day before the Cowboys won at Cincinnati. Brent wore blue sweatpants and a Cowboys top
Copyright Associated Press