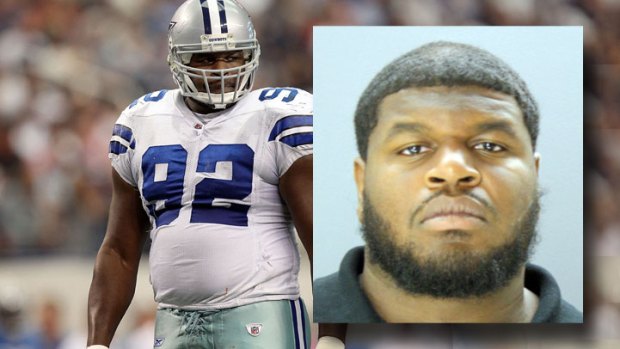 Josh Brent's mugshot, taken June 27, 2013, inset over a Getty Images photo of him playing for America's Team.
A Dallas grand jury has added a second manslaughter count against former Cowboys player Josh Brent in connection with a drunken-driving crash that killed a teammate.
The second indictment against Brent returned Wednesday adds a new count of manslaughter to the existing count of intoxication manslaughter.
Brent is accused of driving drunk during the Dec. 8 crash in suburban Dallas that killed Jerry Brown, his friend and a Cowboys' practice squad player. He faces 20 years in prison if convicted.
Brent's attorney, George Milner, said he wasn't surprised by the additional count being added, which could allow a jury to find Brent guilty without finding that he was intoxicated.
The 25-year-old Brent retired from the Cowboys in July.