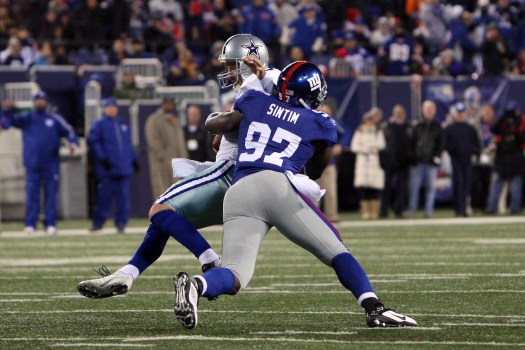 Getty Images
Clint Sintim of the New York Giants sacks quarterback Tony Romo of the Dallas Cowboys in the second quarter at Giants Stadium on December 6, 2009.
Through out the first two quarters, the Cowboys have been the better team. However the scoreboard says otherwise, as the New York Giants 14-10 at halftime.
The Cowboys got on the board first, courtesy of a Nick Folk field goal. The defense then pitched in with a Jay Ratliff fumble recovery that led to a Roy Williams touchdown and all of the sudden it was 10-0 Cowboys and game was in Dallas' control.
However Eli Manning came right back with a great shovel pass to Kevin Boss, after nearly being sacked. Three consecutive 16-yard plays later, the Giants were on the board with a Manning to Hakeem Nicks touchdown to close the gap to 10-7.
After getting great field position, Marion Barber fumbled what would've been a first down in Giants territory. Brandon Jacobs would tack on a one-yard touchdown run and just like that the Giants had a 14-10 lead.
The Cowboys have to settle down after three-minutes of bad football. Or else the Giants are going to ride the momentum, and the Cowboys are going to start off December with a loss.