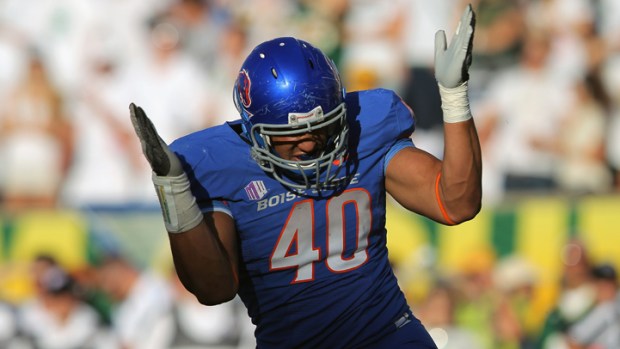 Getty Images
Defensive end Tyrone Crawford #40 of the Boise State Broncos will soon wear a star on his helmet, the Dallas Cowboys drafted him 81st overall in the 2012 NFL Draft.
The Dallas Cowboys have used their second draft pick on another defender, selecting defensive end Tyrone Crawford from Boise State.
Dallas got Crawford with the 81st overall pick in the third round Friday. It was the Cowboys' only pick on the second night of the draft.
The Cowboys selected LSU All-American cornerback Morris Claiborne with the No. 6 overall pick Thursday night, after they traded up eight spots and gave up their second-round pick to get him.
The 6-foot-4, 285-pound Crawford started 11 of his 25 games at Boise State. He had 76 tackles and 13½ sacks, causing four fumbles and recovering three others for Boise after two junior college seasons in California.