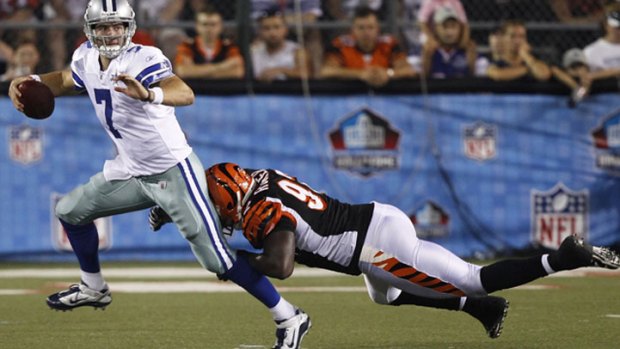 Getty Images
Stephen McGee #7 of the Dallas Cowboys breaks a tackle attempt by Frostee Rucker #92 of the Cincinnati Bengals during the 2010 Pro Football Hall of Fame Game at the Pro Football Hall of Fame Field at Fawcett Stadium on August 8, 2010 in Canton, Ohio. The Cowboys defeated the Bengals 16-7.
The Dallas Cowboys and Miami Dolphins will kick off the 2013 preseason in the NFL/Hall of Fame Game Aug. 4 in Canton, Ohio.
The Hall of Fame game is played annually at Fawcett Stadium in Canton, south of Cleveland, one day after the newest class of Hall of Fame members are inducted.
Three of the seven being enshrined in 2013 have ties to the Cowboys or Dolphins.
The most notable player going into the hall for Cowboys fans is likely guard Larry Allen, who played for America's Team from 1994-2005 and was named All-Pro seven times.
Along with Allen, former Cowboys head coach and Dolphins executive Bill Parcells will be entering the Hall of Fame along with WR Cris Carter, Curley Culp, Warren Sapp, Jonathan Ogden and Dave Robinson.
The Cowboys last played in the Hall of Fame game in 2010. This year's game will be broadcast Aug. 4 at 7 p.m. CT on NBC 5.